Acute vs. Chronic Pain
_______________________________________
Pain is an unpleasant experience. It can make us sad, angry, frustrated and fearful along with a list of other emotions. Why do we experience pain? We experience pain because it can protect us and help us heal. Unfortunately, it can also persist when our tissues have healed as best they can and no longer need protection.
During initial or acute pain, impulses are sent to the brain from damaged tissues to help signal the body's adaptive measures to protect and heal the injured tissue. Adaptive measures may include the actual physiological healing process or more external measures such as discontinuing a tennis match after a severe ankle sprain. This is when pain is beneficial; it guides us to stop activities that may further injure the body or decrease the ability to heal.
Chronic or persistent pain can also be useful in certain circumstances. For example, the pain associated with the inflammatory response of those suffering from rheumatoid arthritis can be a reminder to not stress their joints unnecessarily.  Intense pain in rheumatoid arthritis specifically alerts sufferers to reduce stress on the joints, which offers some measure of protection. Though these instances display the potential benefits, in many cases of chronic pain, non-use of the injured body part is regarded as maladaptive and harm may not necessarily occur from using it.1
In chronic pain there may not be a hard anatomical reason for the pain experience, as tissue healing has already occurred as best as it can. Many people with maladaptive chronic pain may present with tender joints, tendons, muscles, or nerves resulting from sub-microscopic deviations of these tissues and altered processing in the brain and spinal cord rather than an identifiable tissue injury.1 The individual may begin to move less for fear of injury. Disuse from lack of movement may then lead to deconditioning of the body and an overall worsening of the situation.2
The Pain Experience is Complex
__________________________________________________

Pain is not simply a signal sent to the brain indicating tissue damage. When we are injured pain signals become a sensory experience that we think about and respond to emotionally.3 I will give an example of this.
A soccer player rolls her ankle during a game. The sensory experience provides her with an awareness of the location of the pain, and whether it is shooting, burning, constant or throbbing. When we think about pain we bring into account our past experiences and previous knowledge.4 The soccer player may have had a teammate with a severe ankle sprain that required surgery and sidelined her for the season; conversely, she may have had a teammate who had a minor sprain that allowed her to return in a week. The soccer player's past experiences then lead to an emotional response which may be negative such as fear, anxiety or anger. She might be fearful that she will need surgery or angry that she will not be able to play in the championship game. This example illustrates that pain is not simply a signal to the brain; it is a complex experience involving cognitive and emotional aspects.1
Mechanisms of Pain
___________________________________

The complexities of pain can be broken down into several mechanisms which in combination contribute to the pain experience. Any of the following may become the dominate mechanism of pain.
1.) Nociceptive Pain1– Sensory neurons in tissues such as muscles, ligaments and bones transmit pain signals in response to injury and inflammation. This type of pain is often acute but it is also seen in chronic conditions such as rheumatoid arthritis. This may also crop up in those with poorly conditioned tissues that cannot tolerate stress as well as conditioned tissues.  Nociceptive pain typically improves naturally. It may also respond well to physical therapy, ice and anti-inflammatories.1
2.) Peripheral Nerve Pain1-Peripheral nerves connect the brain and spinal cord with the body and organs. An example of a peripheral nerve is the sciatic nerve. The nerve may contribute to pain because of compression, laceration, overstretching, or exposure to chemicals associated with the inflammatory process 1. Signs and symptoms may include1:
Symptoms running the course of the nerve

Weakness

Tension of the nerve or compression of the nerve, which reproduces symptoms.

Burning, tingling, prickling or numbness
3.) Central Sensitization1– The central nervous system (CNS) is composed of the brain and spinal cord. Ultimately ALL PAIN is processed in the brain. When pain is experienced the CNS becomes more active to help promote protective movements1 (e.g. favoring an injured ankle by walking with an uneven step). This activity in the CNS may continue even after tissues have healed.
With time, cells in the CNS can change in the way they respond to stimuli and may become more sensitive5. Sensitization can increase the area of tissue that pain signals come from. Inputs that are not harmful may be perceived as pain and the cells may respond to inputs for far longer periods of time.6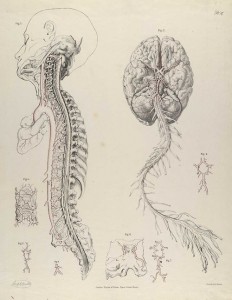 When sensitization occurs, the primary source of pain may be due to maladaptive processing by the brain and spinal cord, as opposed to tissue damage from the initial injury.1  It is possible that persistently thinking about pain and focusing on it can increase central sensitivity.  It also may be possible to "store" pain like a memory.7  Like a memory, people can be taught to decrease their focus on pain.1  Potential signs and symptoms of central sensitization include1:
Pain continues after tissues should have healed

Pain patterns are unfamiliar to the health care provider

Mental and physical stress may exacerbate symptoms

Poor response to medications

Variable responses to passive treatments such as stretching.

Stretching or other physical treatments may help one day and the next day exacerbate symptoms.
4.) Emotions1– The way we think and our emotions have an effect on our bodies and how we process sensations such as pain.3  Pain can lead to negative emotions and stress, which may have very real effects on the body such as the release of chemicals which can contribute to greater or more persistent pain.1
5.) Fight or Flight System1– The sympathetic nervous system is responsible for our flight or fight response. How we feel, frightened or calm has an effect on this system. Negative thoughts may have an effect on how tissues respond to fight or flight hormones, allowing for an increase in the signals related to pain.1
_____
Pain Mechanisms Can Change and Interplay
____________________________________________________________________

Often one of the pain mechanisms predominates in the pain experience, and in many cases the predominate mechanism can change. The following is an example of how the dominate pain mechanism changes and how pain mechanisms can interplay.
A gentleman injured his back from lifting a heavy object. He had a thorough evaluation from an orthopedic physician and an orthopedic physical therapist. No serious injury or dysfunction of the musculoskeletal system was identified. Imaging of the spine also showed no major damage.
Initially the primary mechanism of pain was likely nociceptive. Sensory neurons were sending impulses to the brain in response to tissue damage and inflammation. A year later the same patient returned with continuing low back pain. By this time the structures had healed as best as they could. The sensory neurons were then less likely to be responding to tissue damage and inflammation.  At that point central sensitization had likely occurred and this could have been the dominate pain mechanism.
In addition to central changes, the patient may be anxious that something is "really wrong" and fearful that if he moves in the wrong way he will damage his back. These negative emotions then serve as another mechanism to further sensitize his body to pain. Emotions such as fear may then lead to disuse, and deconditioning of the body. This may ultimately lead to loss of the ability to participate in activities he may have once enjoyed.
The pain experience is dynamic, multidimensional and not always straightforward. The body and mind work as one to help protect us and keep us from danger. Pain protects us but it can also become maladaptive, negatively impacting the quality of our lives. Consulting with a health care professional such as a physician for a proper diagnosis and medical treatment of a painful condition is an important first step. It is often beneficial to seek an evaluation and treatment from a physical therapist to help manage pain and regain function that may have been lost.
______________________________________________________________________________________________________________
Author: 
Christopher (C.J.) Eberley, PT, DPT
Board Certified Orthopedic Physical Therapist
Disclaimer: The views discussed on this website are for educational purposes only. Should you have any questions please consult your physician or physical therapist. Copyright© Kinesis Physical Therapy. All Rights Reserved.
References
1. Gifford LS, Butler DS 1997. The integration of pain sciences into clinical practice. Journal of Hand therapy 10;86-95
2. Vlaeyen JW, Linton SJ. Fear avoidance and its consequences in chronic musculoskeletal pain: a state of the art. Pain 2000;85:317-32.
3. Villemure C, Bushell Mc. Cognitive modulation of pain: how do attention and emotion influence pain processing? Pain 2002;95:195-94.
4.Koyama T, McHaffie JG, Laurienti PJ, Coghill RC. The subjective
5. Experience of pain: where expectations become reality. Proc Natl
6. Acad Sci USA 2005;102:12950–5.
7. Latremoliere A, Woolf CJ. Central sensitization: a generator of pain hypersensitivity by central neural plasticity. J Pain. 2009;10:895–926.
8. Woolf CJ, Doubell TP. The pathophysiology of chronic pain—increased sensitivity to low threshold A beta-fibre inputs. Curr Opin Neurobiol 1994; 4 : 5 2 5 – 3 4
9. Basbaum AI. Memories of pain. Sci Med 1996;3:22±31.